CELEBRITIES WEARING SARAH REGENBURGER
Our pieces have been worn by Lady Gaga, Taylor Swift, Anne Marie, Bella Porch and many more celebrities across the world
WE NEED TO ACT NOW
The philosophy of the brand is quite simple, 'be a badass that does good', this approach has garnered a mighty following of fiercely loyal customers who, like Sarah herself, support the vegan and sustainable movement by making positive steps to help future generations. 
The mission is to change the world to a better place and we strongly believe that each of us individually have the Power to change the world.
This is why Regensburger likes to call her customers and herself: "REBELS WITH A CAUSE".
The brand has been awarded to the "Designer of the Year" by PETA in 2022.
ABOUT US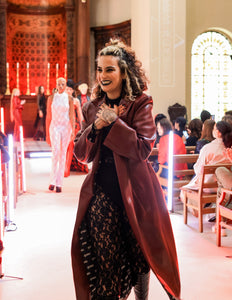 For the alternative Bride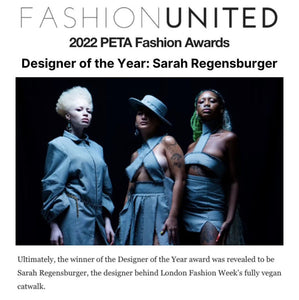 2022 PETA Designer of the Year
Sarah Regensburger has been named PETA Designer of the year in 2022.
"A fully vegan show at London Fashion Week? Sarah Regensburger made that vision a reality this year when she showcased an entirely vegan collection, including innovative materials such as cactus leather. Her daring, eye-catching looks attract vegan and non-vegan fashion lovers, proving that ethical style can be universally appealing."
PETA FASHION AWARDS 2022